Vista Pinehill - LOCATION
The mountain resort city of Baguio is located in Benguet province in Northern Luzon island in the Philippines, at an elevation of approximately 1,540 meters above sea level in the Cordillera Central mountain range. 
Located about 245 kilometers north of Manila, Baguio is accessible via a 4.5 hour drive on the North Luzon Expressway. The most popular way to get from Manila to Baguio is by bus. From several terminals in the Metro Manila area, you can get different bus services that run 24/7 between the two cities. Buses are generally air-conditioned, modern and comfortable, and a bus journey from Metro Manila to Baguio generally takes about 4-6 hours, depending on the traffic and the time of day.
Known for its lovely cool climate and surrounding tropical pine forests,  Baguio is also known as the Summer Capital of the Philippines, with a population of about 345,000 people. It is also known as "The CIty of Pines" because of the many pine forests here. Every February, the Baguio Flower Festival is held, with colorful floats and street parades, native dance displays and other attractions which draws huge crowds of tourists and visitors to Baguio every year.
Baguio is a also center of commerce, business and education in Luzon. There are many national and international companies that call Baguio home, and many manufacturers are located in the Baguio City Economic Zone including Texas Instruments Philippines, Moog Philippines, Baguio-Ayalaland Technohub and many others.
Baguio is also a renowned university town, with more than half of the population here being students mainly enrolled in one of the eight major institutions of higher education here:  Baguio Central University, University of Baguio, University of the Cordilleras, Pines City College, St Louis University, University of the Philippines Baguio, Philippine Military Academy and Easter College.
The new Vista Pinehill development is located on a lovely vantage point on Outlook Drive,  for a spectacular view of the surrounding mountains. Outlook drive connects Baguio City's most popular landmarks and attractions such as the Botanical Gardens and Mines View Park, so residents at Vista Pinehill will have plenty of choices for healthy rest and recreation options in their spare time. Nearby, attractive cafes and restaurants abound for lots of dining options, or just for hanging out with friends at the end of the day.
 
Some of the great cafes and restaurants near Vista Pinehill include:
Manduto Cafe and Restaurant
Cafe Adriana by Hill Station
Cafe Sabel
Chives Eat N Share Bistro Cafe
Vanilla Cafe
Raduno Cade & Resto
For shopping and groceries, there is an astounding selection of malls and markets in Baguio City that caters to the local population as well as for tourists and visitors. Some of the malls and markets located near Vista Pinehill include:
Xentro Mall Baguio
Porta Varga Mall
Sky World Commercial Center
Varietybasket
Tiongsan Dept. Store
GP Arcade
SM City Baguio
Pines Arcade
For all healthcare needs, there are plenty of clinics and healthcare facilities located near Vista Pinehill for your complete peace of mind. Some of the clinics and hospitals located near Vista Pinehill include:
St Louis University Hospital of the Sacred Heart
Baguio General Hospital
Notre Dame De Chartres Hospital
NLAC Hospital
Baguio Mountain Family Clinic
Nationwide Health Systems Baguio Incorporated
Erker-Salcedo Dental Clinic
There are also many places of worship located near Vista Pinehill, including:
The Church of Jesus Christ of Latter-Day Saints
Lighthouse Baptist Church - Baguio City
Korean Full Happiness Church, Inc.
Gospel of Grace Community Church
United Methodist Church
Our Lady of Grace Church
 
Baguio City abounds with recreational attractions, and its cool fresh mountain air makes it pleasant to get out and about in the outdoors. Visitors to Baguio City enjoy popular tourist attractions such as Camp John Hay, the former R&R camp for US military personnel, which was handed back to the Philippine government in 1991. This is now a country club offering horseback riding facilities as well as an 18 hole golf course. 
Another popular recreational facility in Baguio is Mines View Park, where visitors can enjoy the fresh pine scented air and beautiful mountain scenery here. Other outdoor recreational facilities in Baguio include Burnham Park, where you can go for a walk or go rowing in the lake, and Strawberry Fields, where you can pick fresh strawberries.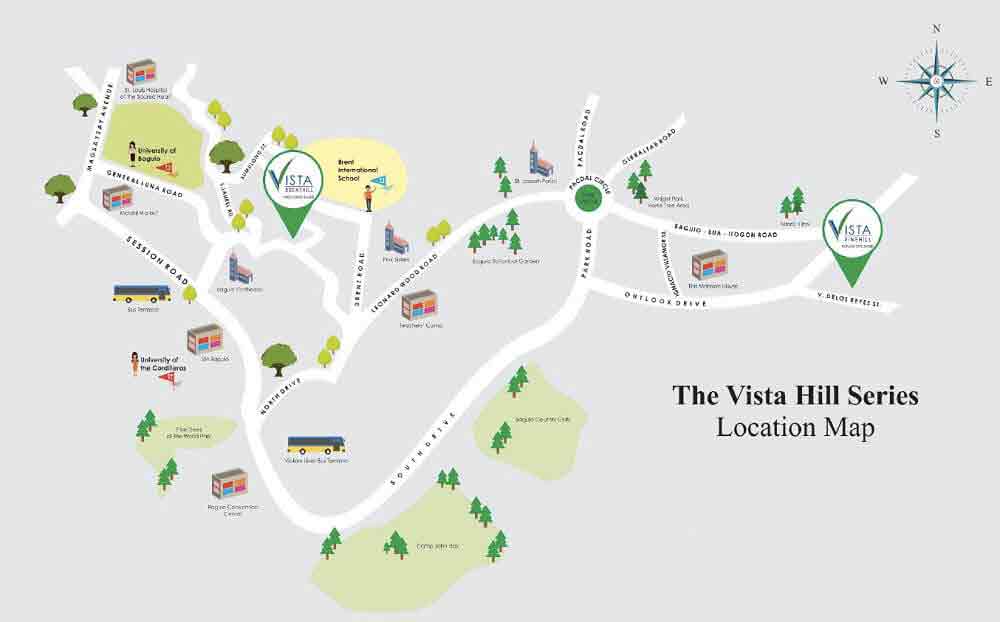 Baguio City in its entirety is a clean city with lots of scenic spots that is truly worth your stay. Condos in Baguio City are still a big demand for local and foreign tourists who are looking for a cool place to unwind while enjoying the city's various attractions. You can now have your own home at the Vista Pinehill, one of the finest condos in Baguio City, that will leave you breathless as you watch in grander view some of the city's most stunning scenery right in your own balcony. Don't be left behind, invest in Vista Pinehill, invest in the most sought-after condo in Baguio City.